The Create Podcast Is Live!
---
Share this: Facebook · Twitter · Reddit · Print · Comments
---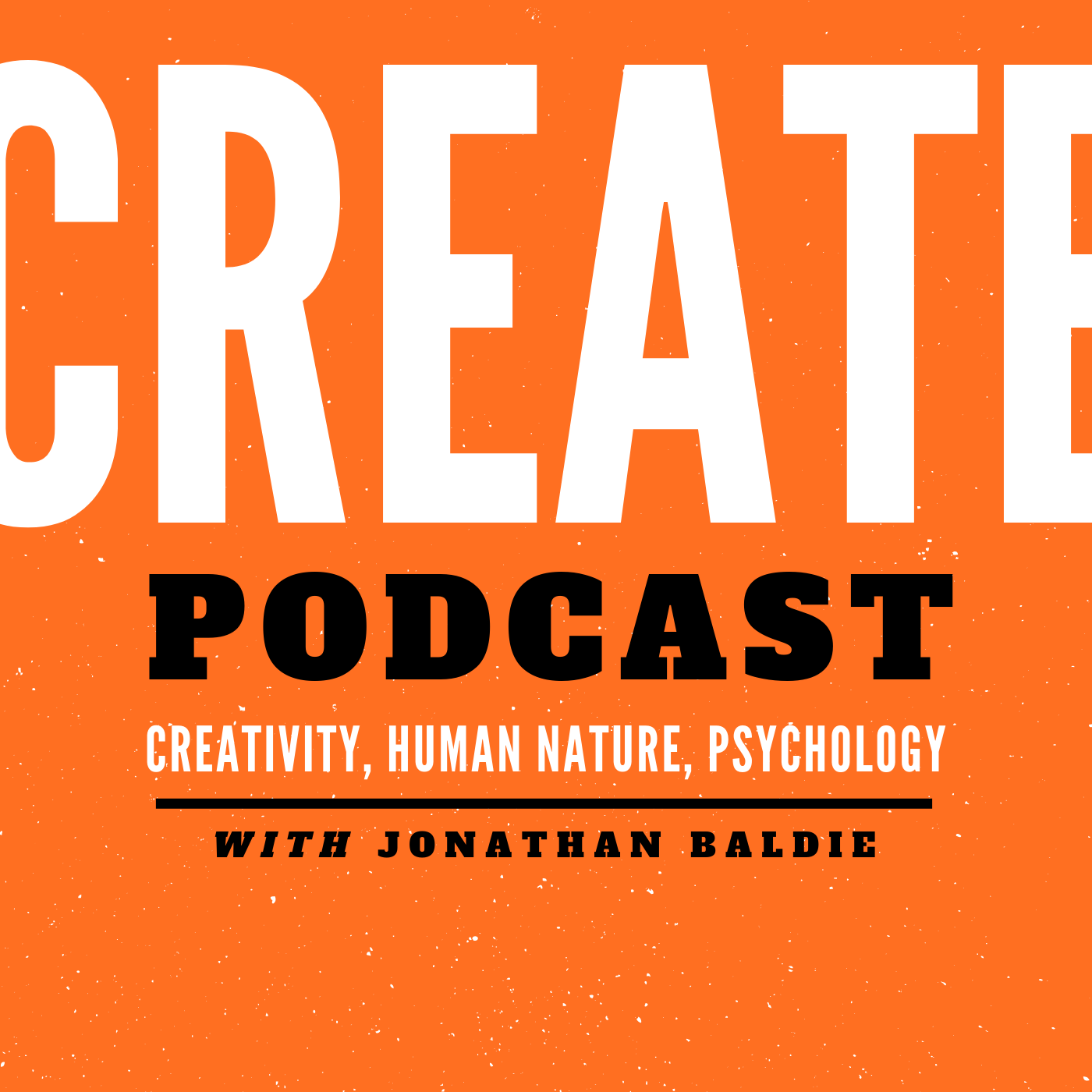 After fantasising about starting a podcast for a year, Create with Jonathan Baldie is now live.
Sometimes you have to stop over-thinking things, use the equipment you've already got, and figure it out as you go.
This is an experiment, kind of like a beta test. With these first few test episodes, my goal is to explore topics in creativity and provide listeners with the same kind of storytelling tips and strategies I share every week in this newsletter.
I have an important favour to ask, which I don't do often:
1) Please listen to this first episode.
2) Then, PLEASE leave a review on iTunes.
Based on your feedback, I'll either stop or keep doing this podcast.
If you seem to like this, I promise to do at least five more episodes. I have a couple of starting guests lined up (see below) with a lot to share in the writing space and beyond. Constructive criticism and suggestions for improvement are welcome, whether on iTunes or by replying to this email.
With that being said, here is the first episode! I really hope you enjoy it.
Update: Hey there! Thanks for checking the podcast out. I've decided to clean up my past episodes, which included the unfortunate task of taking down this episode. So to get the first episode, you'll need to check out my conversation with Steve Bivans, a long-time fiction writer.
EPISODE 1: LONDON COMIC-CON, WRITING A NONFICTION BOOK
(Listen and subscribe on iTunes / Spotify / Google Play / Stitcher)
When I gave a talk several months ago to promote my book, I was surprised at how many of the questions resembled "So… how did you actually publish this book? Any tips?"
Here I was, trying to explain what I think makes good writing, and I'd failed to realise that most writers seem to struggle most with actually getting their work out there—whether fiction or nonfiction.
As for nonfiction, I happen to have some experience in that arena! So in this finding-my-feet episode, I stumble around way too many "ums" and "ahhs" to guide you through the writing and publishing process I used for my nonfiction book.
Listen for tactics, tips, and common pitfalls. If you've ever thought of writing a book, give this episode a try. Even if you're primarily interesting in writing fiction, I made this guide sufficiently broad enough to encapsulate both.
I'd like to mention that I recorded this podcast episode at the weekend, before Peter Mayhew sadly passed away. I mention him in the episode, having met him at London Comic-Con. I feel so blessed to have met him, he was so positive even in his ill health.
Dive in folks, and please subscribe!
UPCOMING EPISODES
In this first episode, I admit that others in the writing community have a lot more experience to share when it comes to fiction writing. I wouldn't want to sit and give you tips when there are plenty more experienced authors out there.
That's where Steve Bivans (@stevebivans) comes in. Steve has written books across many different genres, and we'll be discussing his writing process from start to end in episode 2 of the podcast.
In episode 2, which should be available next Friday, we'll be diving deep into practical tips for writing a novel. I'm hoping it will be an interesting and practical long-form discussion.
After that, I hope to bring a personal friend of mine on to discuss Avengers: Endgame. Once again, this will be a long-form discussion into the storytelling aspects of the movie, with plenty of juicy spoilers.
(If you missed my review of Endgame last week, here's my entirely spoiler-free review.)
WHAT ABOUT THE NEWSLETTER?
Every Friday, I'll still continue sending you emails like this one. If the podcast seems to be going well, I'll continue with a mix of written content and long-form podcast discussions linked inside the email. I'm still a writer at heart!
---
Posted on: 3rd May, 2019
---
Share this: Facebook · Twitter · Reddit · Print
---
Please check out The 24 Laws of Storytelling, my book that explores the principles that makes some books and movies great and explains why others fail. By reading my book, you'll gain the same strategies used by master storytellers such as Stephen King, Christopher Nolan, Fyodor Dostoyevsky, and many more. Pick up your copy today.
---
---
Comment Rules: Let's all be cool and rational here. You're free to disagree or give criticism, but rudeness or nastiness aren't okay. Always use your PERSONAL name not your business name, because the latter looks like spam. Thanks for adding to the conversation!