Notes on My Master's Degree in Mathematics
30th August, 2021 Share on Twitter
---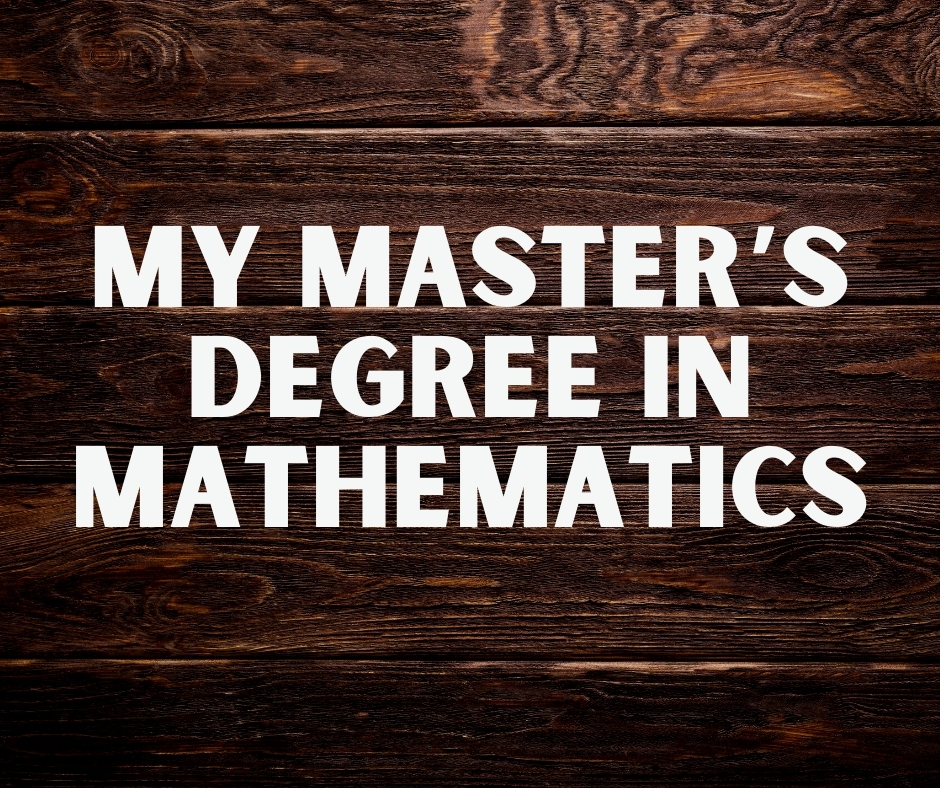 I recently finished a master's degree in mathematics at the Open University, a remote learning institution in the UK.
I thought it'd be interesting to talk about my experience on the degree, and perhaps share some lessons learned for others who want to study postgraduate mathematics or enrol on a remote learning course in general.
A good place to start might be to list some of the most basic facts of my master's degree study.
I enrolled in the Open University's MSc Mathematics course in the summer of 2016, after feeling disaffected with my job. A turn of good fortune led to my employer offering to pay for the course in exchange for taking a new contract. This ended up being a great win-win deal, as I still work at the same company today, for substantially more pay than back then.
The MSc consists of five optional modules and one compulsory dissertation module. I studied two modules from 2016-17, then took a break, then studied two further modules in 2018-19, and finally finished the last two modules this year. In this last year, one of the two modules was to write a dissertation, a requirement for completing the overall degree.
The first year was not easy. It was a shock to return to semi-regular study, especially in a difficult subject like mathematics. The assessments were challenging, and I got pretty bad marks in the first round of assessments we received in the Autumn of 2016.
Assessments are a core part of the MSc Mathematics degree, and they are essentially pieces of homework that you have to complete independently, four times per year per individual module. That can add up to a surprising amount of work if you decide to do more than one module per year, as I did. At times it was a challenge to not only complete the difficult assessments, but keep up with the pace of the courses.
However, that difficulty ended up being manageable, and the tutors were generally very helpful, with only a couple of rare exceptions. You are assigned a tutor for every module you take, and part of their job is to respond to questions, since Open University study clearly involves a lot of independent study without lectures.
I would find that if I found myself stuck on a question, tutors were helpful in pointing me in the right direction, without necessarily giving you the answer. I will also admit that Wolfram Alpha played a large role in helping me get through some of the more challenging assignments!
The helpfulness of my Open University tutors was in stark contrast to the lack of help I received while studying for my BSc (Hons) in Mathematics from the University of Edinburgh. I felt like I was treated as a nuisance undergraduate at Edinburgh, and learned to rarely ask for help from lecturers or my peers.
To be fair, my lack of success at undergraduate level was more a factor of not fully engaging with the coursework and failing to make a cohesive group of friends. On reflection, I would have stood a much better chance if I had made a good group of friends to work collaboratively on assessments, as many other of my peers on the course did.
I was deeply unhappy during my undergraduate years, and I look back on those years with regret. But that regret drove me to try again with further study in an attempt to prove myself. In the end, I passed my master's degree and received a distinction for my dissertation on 19th century geometry, so I think I redeemed myself in this regard!
If anyone were to seek my advice before starting their undergraduate study, I would encourage them to make friends in their course, especially those who might encourage them with collaboration on coursework. They don't have to be your best friends, but they should be serious about their studies. If you get on with them well enough to become close personal friends, then that's even better.
It might not be surprising that remote study offers few opportunities to meet your fellow students and form a study group. I'm very much a lone wolf, and did all of my assessments by myself. But on exam days at the end of each module, I met some fellow students and managed to find some common ground, a good way to make yourself feel better before an important exam.
I took all of my exams at a university about an hour's drive away. The Open University lets you book locations for exams near to where you live, meaning I didn't have to go too far. However, I was surprised that in my second year of study, when I arrived to take my exams, no one else turned up to complete the exams with me. These were people who had signed up for the course and paid the fees, but failed to show up for the exam! I was disappointed to be alone for this set of exams, but I managed to do quite well on those modules.
This final year overlapped with the COVID-19 pandemic, and Britain was locked down for much of it. The home study aspect of the degree clearly didn't change, and I was able to submit my dissertation electronically. But for the sole exam module I took this year, the university asked me to take an at-home exam. This involved downloading the exam as a PDF file, and then completing the exam and uploading it before the end of the 24-hour period. This was a lot more stressful than I expected, and I took over six hours to complete the exam. When you take an exam in the regular way, much of the process is out of your control. But when you have a lot more time to work with, and you are responsible for uploading your completed exam script, you have to work much harder!
I am proud of myself for completing my master's degree, and would encourage others to look into remote study if it is available to them. I found that there is a much better culture of helpfulness among the faculty than in conventional in-person undergraduate study, a necessity given the nature of remote study. I am glad that it is done, because now I can get back to writing more books 😃
If you have any specific questions about remote study or mathematics, then feel free to send me an email any time and I will do my best to help you. It is a great experience that I would recommend to anyone.
---
Please check out The 24 Laws of Storytelling, my book that explores the principles that make some books and movies great and explains why others fail. By reading my book, you'll gain the same strategies used by master storytellers such as Stephen King, Christopher Nolan, Fyodor Dostoyevsky, and many more. Pick up your copy today.
---